Dumping syndrome
Overview
Dumping syndrome is a condition in which food, especially food high in sugar, moves from your stomach into your small bowel too quickly after you eat. Sometimes called rapid gastric emptying, dumping syndrome most often occurs as a result of surgery on your stomach or esophagus.
Most people with dumping syndrome develop signs and symptoms, such as abdominal cramps and diarrhea, 10 to 30 minutes after eating. Other people have symptoms 1 to 3 hours after eating. And still others have both early and late symptoms.
Generally, you can help prevent dumping syndrome by changing your diet after surgery. Changes might include eating smaller meals and limiting high-sugar foods. In more-serious cases of dumping syndrome, you may need medications or surgery.
Symptoms
Signs and symptoms of dumping syndrome generally occur within minutes after eating, especially after a meal rich in table sugar (sucrose) or fruit sugar (fructose). They include:
Feeling bloated or too full after eating
Nausea
Vomiting
Abdominal cramps
Diarrhea
Flushing
Dizziness, lightheadedness
Rapid heart rate
Late dumping syndrome starts 1 to 3 hours after you eat a high-sugar meal. It takes time for signs and symptoms to develop because after you eat your body releases large amounts of insulin to absorb the sugars entering your small intestine. The result is low blood sugar.
Signs and symptoms of late dumping syndrome can include:
Sweating
Flushing
Dizziness, lightheadedness
Weakness
Rapid heart rate
Some people have both early and late signs and symptoms. And dumping syndrome can develop years after surgery.
When to see a doctor
Contact your health care provider if any of the following apply to you.
You develop signs and symptoms that might be due to dumping syndrome, even if you haven't had surgery.
Your symptoms are not controlled by dietary changes.
You are losing large amounts of weight due to dumping syndrome. Your doctor may refer you to a registered dietitian to help you create an eating plan.
Causes
In dumping syndrome, food and gastric juices from your stomach move to your small intestine in an uncontrolled, abnormally fast manner. This is most often related to changes in your stomach associated with surgery, including any stomach surgery or major esophageal surgery, such as removal of the esophagus (esophagectomy). But in rare cases, dumping syndrome can develop without a history of surgery or other obvious causes.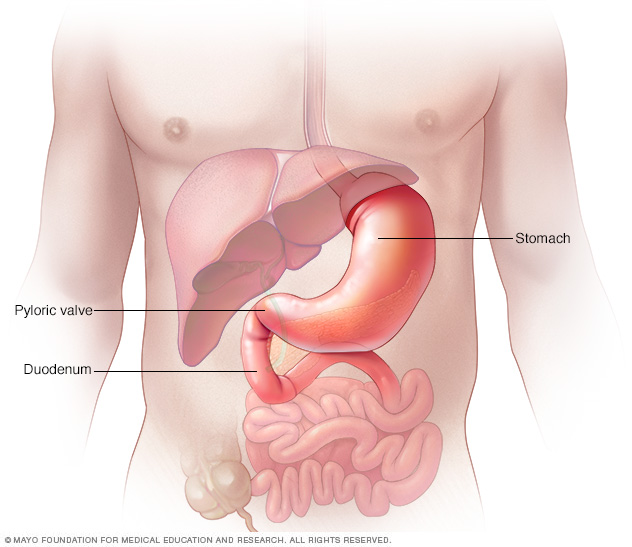 Risk factors
Surgery that alters your stomach can increase your risk of dumping syndrome. These surgeries are most commonly performed to treat obesity, but are also part of treatment for stomach cancer, esophageal cancer and other conditions. These surgeries include:
Bariatric surgery — especially gastric bypass surgery (Roux-en-Y operation) or sleeve gastrectomy — which is performed to treat morbid obesity.
Gastrectomy, in which a portion or all of your stomach is removed.
Esophagectomy, in which all or part of the tube between the mouth and the stomach is removed.
Fundoplication, a procedure used to treat gastroesophageal reflux disease (GERD) and hiatal hernia
Vagotomy, a type of surgery to treat stomach ulcers.
Pyloroplasty, which is done to widen the valve to the stomach (pylorus), allowing food to pass through.
Diagnosis
Your health care provider may use some of the following methods to determine if you have dumping syndrome.
Medical history and evaluation. Your doctor can often diagnose dumping syndrome by taking a medical history, particularly if you've had stomach surgery, and evaluating your signs and symptoms.
Blood sugar test. Because low blood sugar is sometimes associated with dumping syndrome, your doctor may order a test (oral glucose tolerance) to measure your blood sugar level at the peak time of your symptoms to help confirm the diagnosis.
Gastric emptying test. A radioactive material is added to food to measure how quickly food moves through your stomach.
Treatment
Early dumping syndrome is likely to resolve on its own within three months. In the meantime, there's a good chance that dietary changes will ease your symptoms. If not, your health care provider may recommend medications or surgery.
Medications
If changes to your diet don't improve symptoms, your health care provider may prescribe octreotide (Sandostatin). This anti-diarrheal drug, administered by injection under your skin, can slow the emptying of food into the intestine. Possible side effects include nausea, diarrhea and fatty stools (steatorrhea).
Talk with your doctor about the proper way to self-administer the drug.
Surgery
If conservative approaches don't help, surgery may be recommended. Depending on your situation, surgical procedures to treat dumping syndrome may include reconstructing the pylorus or surgery to reverse gastric bypass surgery.
Lifestyle and home remedies
Here are some dietary strategies that can help you maintain good nutrition and minimize your symptoms.
Eat smaller meals. Try eating 5 or 6 small meals a day rather than three larger ones.
Lie down after meals. Try lying down for 30 minutes after you eat.
Drink most of your fluids between meals. At first, don't drink anything for 30 to 60 minutes before and after meals.
Drink 6 to 8 cups (1.4 to 1.9 liters) of fluids a day. At first, limit fluid with meals to 1/2 cup (118 milliliters). Increase fluid with meals as you tolerate it.

Change your diet. Eat more protein, including meat, poultry, creamy peanut butter and fish, and complex carbohydrates such as oatmeal and other whole-grain foods high in fiber. Limit high-sugar foods, such as candy, table sugar, syrup, sodas and juices.

The natural sugar in dairy products (lactose) might worsen your symptoms. Try small amounts at first, or eliminate them if you think they're causing problems. You might want to see a registered dietitian for more advice about what to eat.

Increase fiber intake. Guar gum and pectin in food or supplements can delay the absorption of carbohydrates in the small intestine.
Check with your doctor about drinking alcohol.
Alternative medicine
Some people use supplements such as pectin and guar gum to thicken the digestive contents and slow its progress through the intestines. If you decide to try a supplement, discuss it with your doctor to learn about potential side effects or interactions with other medications you're taking.
Preparing for an appointment
If you have signs and symptoms of dumping syndrome, you're likely to first see your family health care provider. You may then be referred to a doctor who specializes in treating digestive system disorders (gastroenterologist).
Here's some information to help you get ready for your appointment.
What you can do
Be aware of pre-appointment restrictions. When you make the appointment, ask if there's anything you need to do beforehand, such as restrict your diet.
Write down your symptoms, including any that may seem unrelated to the reason for which you scheduled the appointment.
Write down key personal information, including major stresses or recent life changes.
List all medications, vitamins or other supplements you take, including dosage.
Take a family member or friend along to help you remember everything.
Bring your medical records about past treatment, especially stomach surgery.
Write down questions to ask your health care provider.
Questions to ask your doctor
For dumping syndrome, some basic questions to ask your health care provider include:
What is likely causing my symptoms?
What are other possible causes?
What tests do I need?
What is the best course of action?
Should I see a dietitian?
I have other health conditions. How can I best manage them together?
Should I see a specialist?
Are there brochures or other printed material that I can take? What websites do you recommend?
Don't hesitate to ask other questions during your appointment.
What to expect from your doctor
Your health care provider is likely to ask you questions, including:
Have you had stomach surgery, and if so, what kind?
When did your symptoms begin?
Have your symptoms been continuous or occasional?
How long after eating do your symptoms begin?
Do certain foods make your symptoms worse?
How severe are your symptoms?
What, if anything, seems to improve your symptoms?
What, if anything, appears to worsen your symptoms?
Last Updated Jun 17, 2022
---
© 2023 Mayo Foundation for Medical Education and Research (MFMER). All rights reserved. Terms of Use