Heartburn
Overview
Heartburn is a burning pain in your chest, just behind your breastbone. The pain is often worse after eating, in the evening, or when lying down or bending over.
Occasional heartburn is common and no cause for alarm. Most people can manage the discomfort of heartburn on their own with lifestyle changes and nonprescription medications.
Heartburn that is more frequent or interferes with your daily routine may be a symptom of a more serious condition that requires medical care.
Symptoms
Symptoms of heartburn include:
A burning pain in the chest that usually occurs after eating and may occur at night
Pain that worsens when lying down or bending over
A bitter or acidic taste in the mouth
When to see a doctor
Chest pain may be a symptom of a heart attack. Seek help right away if you have severe chest pain or pressure, especially when combined with pain in the arm or jaw or difficulty breathing.
Make an appointment with your health care provider if:
Heartburn occurs more than twice a week
Symptoms persist despite use of nonprescription medications
You have difficulty swallowing
You have persistent nausea or vomiting
You have weight loss because of poor appetite or difficulty eating
Causes
Heartburn occurs when stomach acid backs up into the tube that carries food from your mouth to your stomach (esophagus).
Typically, when food is swallowed, a band of muscle around the bottom of the esophagus (lower esophageal sphincter) relaxes to allow food and liquid to flow down into the stomach. Then the muscle tightens again.
If the lower esophageal sphincter isn't working as it should, stomach acid can flow back up into the esophagus (acid reflux) and cause heartburn. The acid backup may be worse when you're bent over or lying down.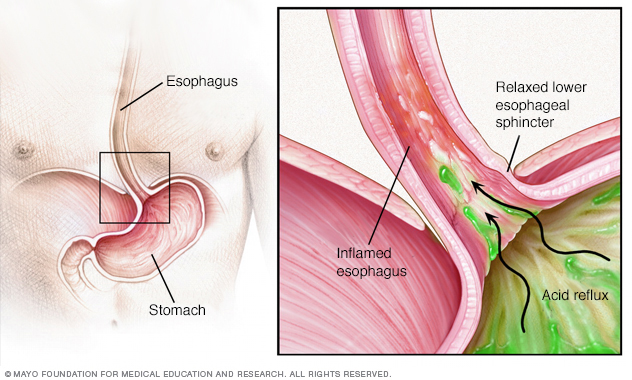 Risk factors
Certain foods and drinks can trigger heartburn in some people, including:
Spicy foods
Onions
Citrus products
Tomato products, such as ketchup
Fatty or fried foods
Peppermint
Chocolate
Alcohol, carbonated beverages, coffee or other caffeinated beverages
Large or fatty meals
Being overweight or pregnant also can increase your risk of experiencing heartburn.
Complications
Heartburn that occurs frequently and interferes with your routine is considered gastroesophageal reflux disease (GERD). GERD treatment may require prescription medications and, occasionally, surgery or other procedures. GERD can seriously damage your esophagus or lead to precancerous changes in the esophagus called Barrett's esophagus.
Diagnosis
To determine if your heartburn is a symptom of GERD, your doctor may recommend:
X-ray, to view the shape and condition of your esophagus and stomach.
Endoscopy, to view your esophagus with a tiny camera to check for irregularities. A tissue sample (biopsy) may be taken for analysis.
Ambulatory acid probe tests, to identify when, and for how long, stomach acid backs up into your esophagus. An acid monitor that is placed in your esophagus connects to a small computer that you wear around your waist or on a strap over your shoulder.
Esophageal motility testing, to measure movement and pressure in your esophagus.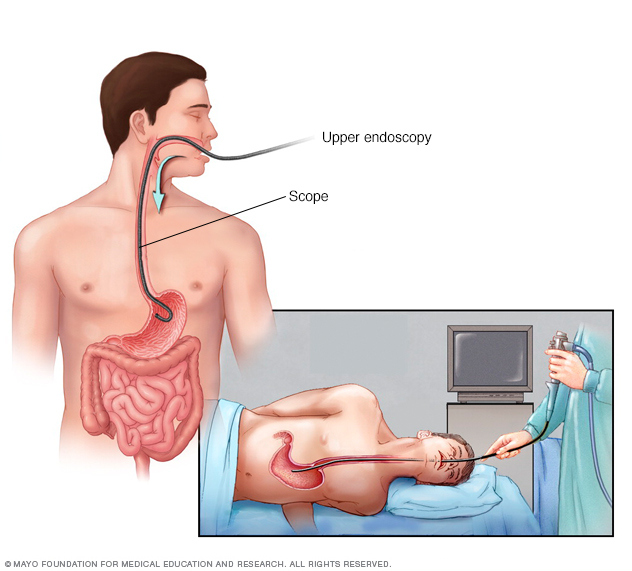 Treatment
Many nonprescription medications can help relieve heartburn. The options include:
Antacids, which help neutralize stomach acid. Antacids may provide quick relief. But they can't heal an esophagus damaged by stomach acid.
H2 blockers, which can reduce stomach acid. H2 blockers don't act as quickly as antacids, but they may provide longer relief. Examples include cimetidine (Tagamet HB) and famotidine (Pepcid AC).
Proton pump inhibitors, which also can reduce stomach acid. Examples include esomeprazole (Nexium 24HR), lansoprazole (Prevacid 24HR) and omeprazole (Prilosec OTC).
If nonprescription treatments don't work or you rely on them often, see your health care provider. You may need prescription medication and further testing.
Lifestyle and home remedies
Lifestyle changes can help ease heartburn:
Maintain a healthy weight. Excess pounds put pressure on your abdomen, pushing up your stomach and causing acid to back up into your esophagus.
Avoid tightfitting clothing, which puts pressure on your abdomen and the lower esophageal sphincter.
Avoid foods that trigger your heartburn.
Avoid lying down after a meal. Wait 2 to 3 hours.
Avoid late meals.
Elevate the head of your bed if you regularly experience heartburn at night or while trying to sleep. If that's not possible, insert a wedge between your mattress and box spring to elevate your body from the waist up. Raising your head with additional pillows usually isn't effective.
Avoid smoking and alcohol. Both smoking and drinking alcohol decrease the lower esophageal sphincter's ability to function properly.
Avoid large meals. Instead eat many small meals throughout the day.
Preparing for an appointment
You may be referred to a doctor who specializes in disorders of the digestive system (gastroenterologist).
What you can do
Be aware of any pre-appointment restrictions, such as not eating solid food on the day before your appointment.
Write down your symptoms, including any that may seem unrelated to the reason why you scheduled the appointment.
Make a list of all your medications, vitamins and supplements.
Write down your key medical information, including other conditions.
Write down key personal information, including any recent changes or stressors in your life.
Ask a relative or friend to accompany you, to help you remember what the doctor says.
Write down questions to ask your doctor.
Questions to ask your doctor
What's the most likely cause of my symptoms?
Is my condition likely temporary or chronic?
What kinds of tests do I need? Do these tests require any special preparation?
What treatments are available?
Should I remove or add any foods to my diet?
I have other health conditions. How can I best manage these conditions together?
In addition to the questions that you've prepared to ask your doctor, don't hesitate to ask other questions during your appointment.
What to expect from your doctor
Your doctor is likely to ask you a number of questions. Being ready to answer them may make time to go over points you want to spend more time on. You may be asked:
When did you first begin experiencing symptoms, and how severe are they?
Have your symptoms been continuous or occasional?
What, if anything, seems to improve or worsen your symptoms? Are they worse after meals or lying down?
Do your symptoms wake you up at night?
Does food or sour material ever come up in the back of your throat?
Do you experience nausea or vomiting?
Do you have difficulty swallowing?
Have you lost or gained weight?
What you can do in the meantime
Try lifestyle changes to control your symptoms until you see your doctor. For instance, avoid foods that trigger your heartburn and avoid eating at least two hours before bedtime.
Last Updated May 13, 2022
---
© 2023 Mayo Foundation for Medical Education and Research (MFMER). All rights reserved. Terms of Use